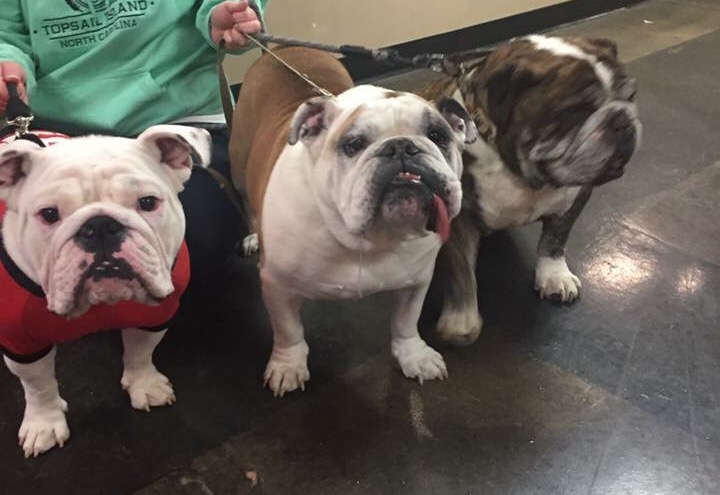 30 Jan

Lucky Dog 2017 Bulldog Beauty Pageant

The Lucky Dog bar in Charlotte recently held a Bulldog Beauty Pageant to benefit Bullies 2 The Rescue. Bulldogs in the area were entered in the event and participated in a runway pageant with categories including Prettiest, Most Handsome, Best Butt Wiggle, Mr. and Mrs. Congeniality, Best Smile, and many more! Bulldogs of all breeds strutted down the runway in front of our awesome panel of judges and took home titles and awesome prizes. Also on site for this event was the Yummi Banh Mi food truck serving Vietnamese food to guests.

Bullies 2 The Rescue was on-site promoting their fantastic organization and Lucky Dog Bark and Brew donated 10% of all bar sales from the event to benefit their great cause. Through donations and bar sales, the 2017 Bulldog Beauty Pageant raised $3,000 for Bullies 2 The Rescue!

Bullies 2 The Rescue is one of three non-profit organizations operating together to work for the welfare and love of English Bulldogs. The other organizations operating with Bullies 2 The Rescue are Bulldog Voice, LLC, and Carolina Pet Pantry. There are many ways to help Bullies 2 The Rescue including fostering, adopting, fundraising and donating. Click here to learn more!

Lucky Dog Bark and Brew owner, Kelly Waugh, was thrilled at the turnout of this event and with the amount of money Lucky Dog was able to raise! She said,

"This event was amazing! So many friendly people and pups! Can't wait for our Bulldog Swimsuit contest coming later this year" 

Look out for more information about our Bulldog Swimsuit contest!

Lucky Dog Bark and Brew is the perfect place for dogs and their owners to enjoy a beer and watch the game together with friends! Whether you are looking for a cool spot to hang out with friends while your dogs play; or need dog boarding and dog day care in the Charlotte and Lake Norman area, you will love Lucky Dog! Be sure to join us on Facebook for all the happenings! We look forward to seeing you soon!