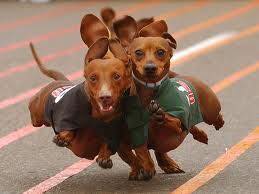 ***21+ (WITH VALID ID) – FURRY CHILDREN ONLY PLEASE! ALL DOGS MUST BE FIXED, FRIENDLY AND UP TO DATE ON SHOTS TO ENTER FACILITY – ALL ARE WELCOME TO COME WITHOUT A DOG AS WELL!***
Come join us for our second annual Weiner Dog race!
North Mecklenburg Animal Rescue is working on donation page that will be up on their website. It will be a $10 donation per race that you want to enter or 4 Races for $30. ALL donations go directly to the rescue. It will be $15 per race at the door if there is room.  (**If anyone is unable to view the ticket page, contact events@northmeckanimalrescue.org & they will be able to get you signed up that way**)
We are extending the hours of the event from 2-8pm so that you can come during the hours of your race. They will be assigned to you shortly after you donate.
**TIMES TO BE ANNOUNCED**
We will soon have a link for pre-registration! NMAR will give you a race slot the day of the event so make sure you know what time your division is starting! You are welcome to come with or without a weiner all day because 10% of all bar sales during the event will go to the 501c3.
We will have a podium for the winners and photo finishes as well as a 50/50 raffle. Be sure to share the event with all your friends.
Can't WAIT!!!!!!!
Mark your calendars early and we'll keep you posted on the fun!
!!! Keep checking back for updates, including drink specials & food trucks !!!