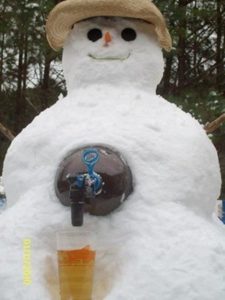 ****FURRY CHILDREN ONLY PLEASE****
21 and over only with a VALID ID – if you are bringing a dog, PLEASE make sure your dog is FIXED, FRIENDLY and up to date on shots!
We have one in our Uptown Charlotte location and one at our Steele Creek location! Join us for both!!
4TH Annual Winter Beer fest on Thrift Rd in Charlotte – 2/22 1-4pm
2ND Annual Winter Beer fest on South Lakes Dr in Steele Creek 3/7 1-4pm
The winter weather is here and the holidays will soon be over but at least we still have BEER!!! Join us for our annual Winter Beer Festival! It will be held at our Lucky Dog Steele Creek location where we will have tons of local breweries come out and set up for beer tastings and samples.
Entry into the event is only $20 for three hours of unlimited beer samplings in 9 oz cups! We will have up to 10 different breweries bringing one or two of their favorites for you to sample. The bar will still be open to normal customers who don't wish to partake in the beer festival!
Local Breweries participating: (More to be announced soon!)
Triple C Brewing Company
Sycamore Brewing
Sugar Creek Brewing
Birdsong Brewing Co.
Red Oak Brewery
The Olde Mecklenburg Brewery
Legion Brewing
Lenny Boy Brewery
Noda
Souther Tier / Victory
Wrap N Roll Food truck will be here to keep you full while you are enjoying all the tasty beverages so come hungry! They are amazing!!
MUSIC by Ryan and Woody 1-4pm
Due to the overwhelming response and to ensure we have enough beer for everyone, we ask that you purchase your tickets ahead of time. $20 for a ticket through the 22nd then $30 at the door. We appreciate your understanding. We don't want to run out of beer — that is never fun! See you soon. Link is listed in the ticket URL or you can click here:
As always, all dogs are welcome as long as they are friendly, fixed and up to date on all shots. Everyone is welcome to come without a dog as long as they are over the age of 21 and with a VALID ID! Furry children only please!