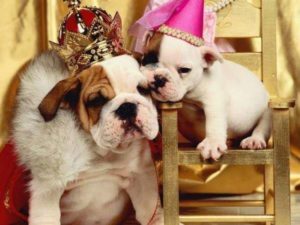 *****21 and over Event! (Furry Children only please) all dogs are welcome as long as they are fixed, friendly and up to date on all shots! ******
Once again, we will be hosting our annual Bulldog Beauty Pageant to benefit Bullies 2 The Rescue! Join us January 25th for a one of a kind party! Pageant will start no later than 5pm.
Bullies from all over will come dressed in their best and vie for the following coveted titles:
Miss Congeniality
Mr Congeniality
Best Smile
Best Butt Wiggle
Best Trick
Best Evening Wear
Cutest Senior
Cutest Puppy
Cutest Frenchie
Cutest Couple
Most Team Spirit
Best Non Bulldog
Best in show
If you would like to enter your bullie into the pageant, you are able to bring cash / card to the event and they will get you registered. Must be registered before 4:30 on the day of the event! Entry fee is for the pageant ONLY!! All pups welcome to enter the "best non bulldog" class! $25 donation to enter
THERE IS NEVER A CHARGE TO COME ENJOY THE FUN WITH OR WITHOUT A BULLIE, ONLY IF YOU DECIDE YOU WANT YOUR PUP TO ENTER THE CONTEST! 100% of all proceeds will go directly to Bullies 2 the Rescue (a local 501c3).
If you are interested in donating prizes for the winners or becoming a vendor, please contact Kelly@luckydogcorp.com
AS ALWAYS – WE ARE A 21 AND OVER EVENT. ALL DOGS MUST BE FIXED, FRIENDLY AND UP TO DATE ON SHOTS. FURRY CHILDREN ONLY PLEASE!