Lucky Dog Bark & Brew
Dog Bathing
Take the stress out of bath time
CHARLOTTE'S PREMIERE FACILITY FOR DOG BATHING SERVICES
Regularly bathing your dog is an important part of keeping them happy and healthy, which is why we're happy to provide professional bathing and shampooing services. Our facility includes top-of-the-line equipment that's routinely cleaned and maintained for your pup's safety, as well as expert dog handlers who are dedicated to providing a low-stress bathing experience for dogs of all sizes.
In addition to bathing and shampooing, our professional staff can also provide ear cleaning, anal gland expressing, nail trimming (with a Dremel), teeth brushing, blowouts (after bathing), and brushing.
You will not find a better deal for dog baths in Charlotte than our awesome team scrubbing your dog while you sip a beer!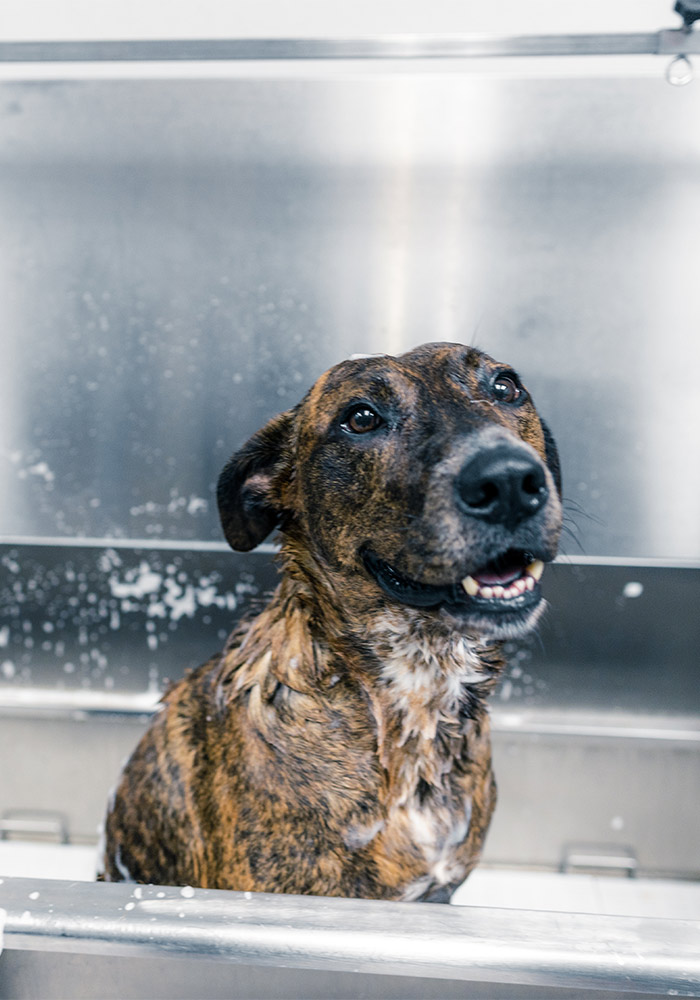 LOADS OF BATH OPTIONS
SELECT THE BATHING SERVICE THAT IS RIGHT FOR YOUR DOG
Our state-of-the-art facility allows us to provide a range of bathing services for dogs of all sizes. Choose the service that's right for your dog.
FULL BATH (OUR MOST POPULAR)
Includes shampoo, blow dry, brushing, ear cleaning, anal gland expression, and a Dremel nail trim.
SIMPLE BATH
Includes a shampoo and blow dry.
DOG NAIL TRIMMING
Nails will be trimmed and filed with a dog-safe Dremel.
DOG TEETH CLEANING
Teeth will be brushed and cleaned.
OATMEAL BATH
Oatmeal-based shampoo will be used to soothe sensitive skin.
WHITENING SHAMPOO
Whitening shampoo will be used to bring out the white in your dog's coat.
FURMINATOR SHAMPOO
Includes a Furminator shampoo, brush out, and blow dry to reduce shedding.
Bathing is a piece of cake
MAKE BATHING PART OF YOUR DOG'S ROUTINE
Bathing, brushing, trimming and the like might seem like pampering, but it should be a part of your dog's routine! A clean dog is a happy dog, and it can help keep them healthy, too. Regular baths and brushings can help you stay on top of any new skin irritations or lumps and bumps your vet might need to know about.
The same goes for keeping up with nail trimmings, ear cleanings, and teeth brushings. Doing all of these things is a great way to ensure your dog is always living his happiest, healthiest life. You can also schedule your dog a bath after a day of dog daycare or after a dog boarding stay so your dog is always smelling fresh!
Call today to make your reservations and have the best-looking dog in town!