Lucky Dog Bark & Brew
Doggy Daycare
Your dog will love it!
Enroll your pup in the best dog daycare in charlotte
Doggy daycare is the best option for your dog during the day. Whether you are at work all day, have errands to run, or your dog just needs to burn off some energy, Lucky Dog's Dog Daycare is the perfect solution. Aside from the safe and clean facilities we provide for our canine guests, we also strive to provide convenient daycare options for their humans!
Lucky Dog is the only doggy daycare in Charlotte currently offering pickups as late as 9:00 p.m. We also offer flexible scheduling and don't require reservations before dropping off your dog. Life doesn't always run on a schedule, so we strive to be available when you need us most.
The best part? After work, you can grab your favorite drink and hang out with friends and your pet at Charlotte's best dog bar!
YOUR FIRST DAY OF DAYCARE IS FREE!
(Monday–Friday by appointment only)
All dogs will be temperament tested prior to being put into daycare. This gives us a chance to see how the dog acclimates to our location and to the other dogs in daycare. The dogs will be put into small groups based on size and compatibility.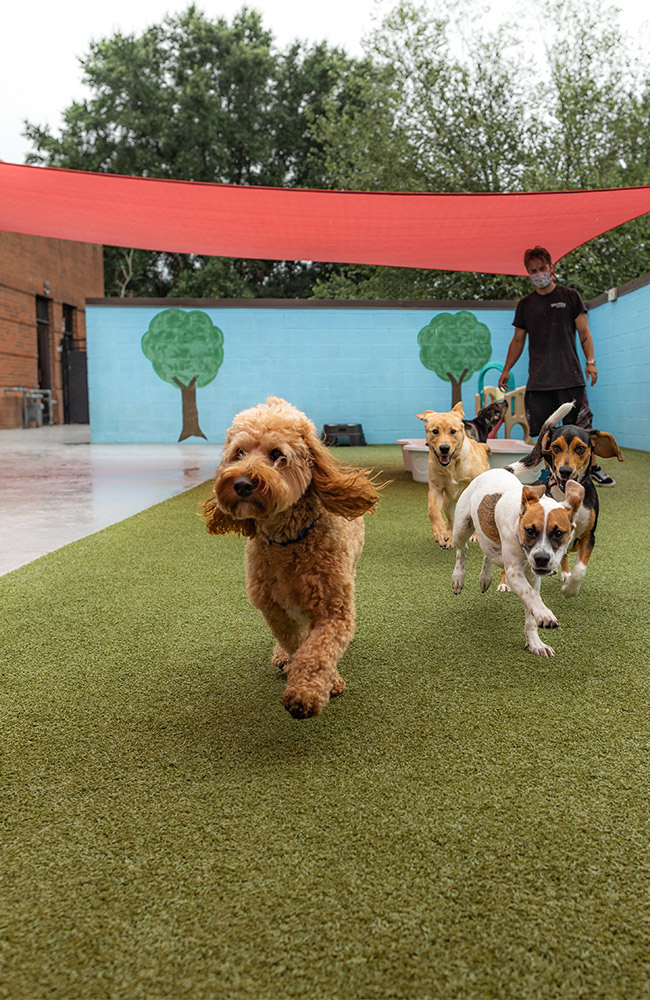 More than just playtime
The Valuable Benefits of Doggy Daycare
Enrolling your dog in doggy care comes with a variety of benefits. Here are some of the major ones you can expect: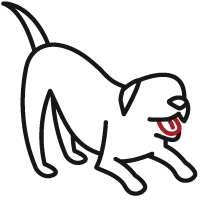 Socialization
Your dog will have the opportunity to interact with dogs of a similar size and temperament in our spacious indoor and outdoor play spaces. This socialization can help keep them engaged and stop them from feeling lonely while you're away.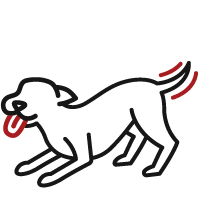 EXERCISE
We take playtime seriously at Lucky Dog! We'll supervise while your pup runs out their zoomies, engages with water toys, navigates our obstacles, or plays with their friends. It's a great way to tire them out and naturally discourage destructive behaviors at home.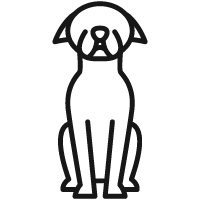 PEACE OF MIND
Your dog will always be supervised while in doggy daycare, which means they'll be safe and sound while you're away. You can feel confident knowing they're having fun and being looked after.
Why Choose Lucky Dog?
The best all-around Dog Daycare
Choosing the right daycare for your dog is important—you want them to be safe, and you want them to be able to socialize and stay active while you're gone. When you choose Lucky Dog, you can look forward to: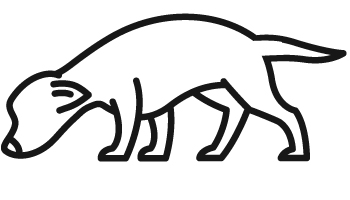 A SAFE AND CONTROLLED ENVIRONMENT
Lucky Dog groups dogs together based on size, breed, and temperament, so you never have to worry about your pup being with dogs twice their size.
SUPERIOR AMENITIES AND STAFF
We pride ourselves on maintaining a clean and safe facility and hiring a well-trained staff who love dogs. Each staff member undergoes intensive training on dog handling techniques when brought onto our team. We have tons of space for indoor and outdoor play, including state-of-the-art dog-safe equipment and toys.
AMPLE SUPERVISED PLAYTIME
We rotate our groups of dogs in and out of playtime throughout the day so everyone has a chance to play their heart out and rest up before doing it all over again.
FLEXIBLE SCHEDULING
We are also happy to offer flexible pick-up and drop-off times as early as 6:30 am (6 am in Lake Norman) and as late as 9:00 pm with no reservation requirements. Temperament tests do require a reservation.
PLENTY OF SOCIALIZATION
Our pups get the chance to interact with other dogs and human handlers throughout the day.
A typical Day At Lucky Dog
The Daycare Schedule
We strive to make every day at Lucky Dog your dog's dream vacation. After separating the dogs into groups based on size and temperament, we facilitate a day of rotating between playtime and rest. Each rotation lasts for approximately 90 minutes.
All of our pups have access to air conditioning (and heat, when it's cold out) and plenty of water. Hot dogs will be able to splash around and cool off in our outdoor water tubs during the warm months.
We're happy to feed your dog during the day, if needed, and you can always see what your pup is up to by joining our Facebook Group and checking out that day's snapshots.
Don't forget, we offer dog bathing as well so your dog can be picked up smelling great!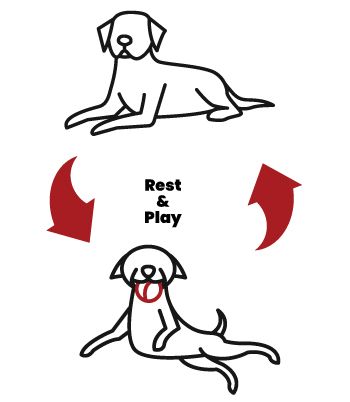 Let's get Social
See your dog on Facebook
Each location has its own boarding and daycare facebook group. Our dog handlers regularly post photos of the dogs at play so you can see what your furry friends are up to during the day. Our social pages are very active to give you insight into a day at Lucky Dog.  See some of the action below!