Lucky Dog Bark & Brew
Overnight Dog Boarding
Your dog will love it!
ENJOY SAFE AND SUPERVISED OVERNIGHT DOG BOARDING IN CHARLOTTE!
Next time you're going to be out of town and your pup can't tag along, consider Lucky Dog for overnight boarding services. We strive to make all of our dogs feel like they're in a home-away-from-home, and offer 365 days of availability.
We're here for you and your pup when you need us!
WHAT TO BRING WHEN YOU BOARD YOUR DOG
Before you drop your pup off for overnight boarding, make sure you have everything he'll need for the length of his stay. That includes:
Food (Please pre-portion your dogs food in accurate serving sizes)
Any medicines and supplements (Please keep all medication and supplements in their original container)
Favorite toys
A reminder of home
A leash and collar
All required documentation
If you can, try to prepare ahead of time!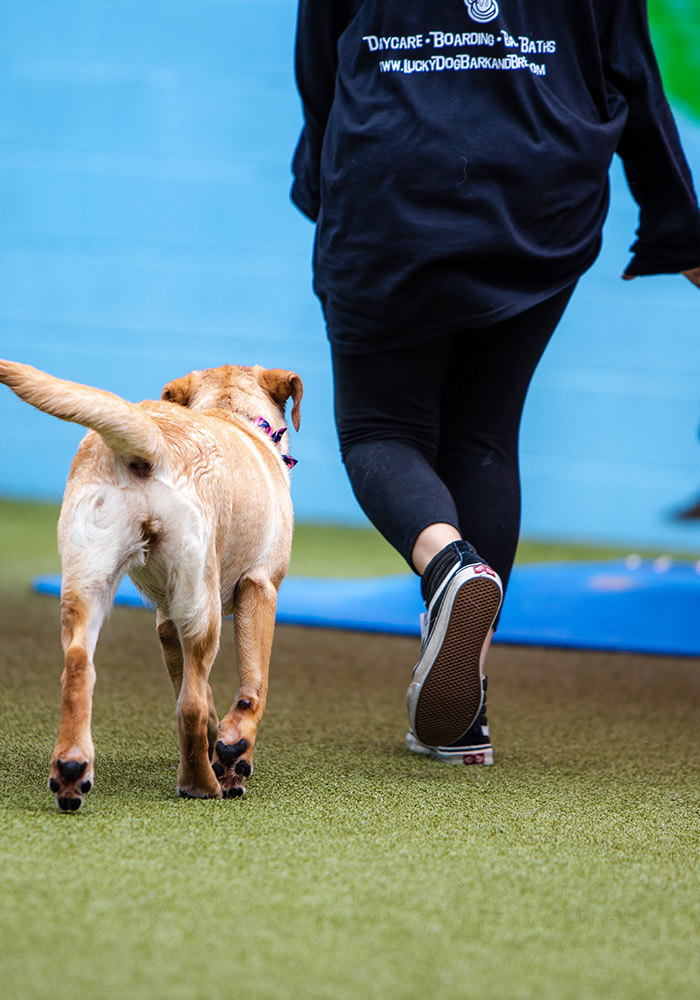 WE MAKE SURE YOUR DOG IS SAFE AND ACTIVE!
WHY CHOOSE LUCKY DOG FOR OVERNIGHT DOG BOARDING?
Whether you need a safe place to board your dog for a night, a weekend, a holiday, or an extended stay, we're always available, and we want to make sure the decision to choose us is super easy. How do we accomplish this?
We give all of our dogs an ample amount of indoor and outdoor playtime in groups of similar sizes and temperaments.
All of our dogs get plenty of socialization with their furry pals — and their human pals, too! There's never a shortage of play or attention here!
Everybody gets some downtime to rest up between playtimes.
We use only the highest quality dog-safe equipment. All beds, kennels, and play equipment are routinely cleaned and maintained for optimum safety.
All of the handlers our dogs interact with have gone through intensive training on how to safely and comfortably handle dogs of all sizes, breeds, and temperaments. They're always in good hands.
Boarding is a piece of cake
HOW TO PREPARE YOUR DOG FOR BOARDING
Boarding your dog might seem like a simple schedule change at first glance, but the experience can be a little jarring if your pup isn't properly prepared. Here's what you can do make sure the experience is a good one for your dog.

DO A TRIAL RUN
This could be especially helpful if your dog is prone to stress and separation anxiety. A trial stay of 24 hours at our boarding facility will ease them into their new environment and give them time to adjust to our daily routine before a longer stay. You can even try daycare for your dog a few days before leaving them overnight. This will give them an opportunity to warm up to our facility.
BRING SOMETHING FAMILIAR
We do our best to provide all the creature comforts your dog could ask for, but there's no place like home. If he has a favorite blanket, rug, or toy, send it along so he has something familiar nearby. It is also helpful to include an old shirt or scarf that smells like you: This will help your furry companion if they miss you.
MAKE SURE THEY ARE USED TO SLEEPING ALONE
If your dog is used to sleeping in your bed with you, start transitioning him to his own bed before his boarding stay.
CHECK IN WITH YOUR VETERINARIAN
Make sure your dog is up-to-date on all of their vaccinations and flea and worm preventives.
DROP YOUR DOG OFF EARLY
Spending the whole day playing and having fun is a great way for your dog to adjust to their new environment before settling down for the night.
Play. Rest. Play.
The Typical Dog Boarding Schedule
A typical boarding day and night with us follows a schedule that allows for ample activity followed by rest and downtime. We have three different packages connected to boarding stays so each pet parent can truly customize their pup's visit! 
Let's get Social
See your dog on Facebook
Each location has their own boarding and daycare Facebook Group. Our dog handlers regularly post photos of the dogs at play so you can see what your furry friends are up to during the day. Our social pages are very active to give you insight into a day at Lucky Dog. See some of the action below!