Lucky Dog Bark & Brew
Puppy Daycare
Puppy Daycare Starting at 12 Weeks Old
Puppy Daycare Services in Charlotte, NC
If you're like most pet parents, the very thought of leaving your furry friend behind gives you almost as much anxiety as it gives them. From chewing out of boredom to howling fears of separation, leaving your puppy at home while you're away isn't just tough on your emotions — it can take its toll on your personal property and sanity as well.
Not to worry: Charlotte area pet owners can keep their pets happy while gaining peace of mind for themselves by trusting Lucky Dog Bark & Brew with their puppy daycare needs. Our puppy daycare facilities are second-to-none, offering pet owners a safe, controlled environment for their furry friends when it matters most. Schedule your first free puppy daycare appointment and temperament test by contacting our team today!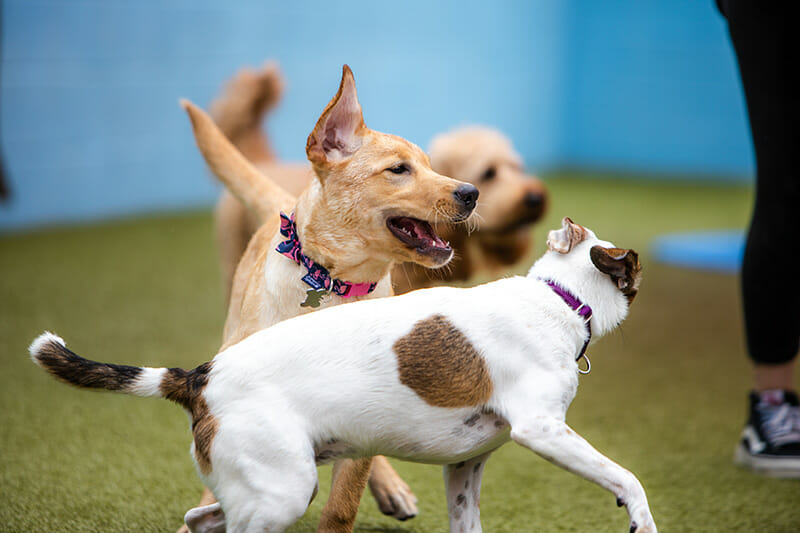 What is Puppy Daycare?
Puppy daycare is the best option for your four-legged friend during the day. Whether you're at work or have long errands to run, your puppy can burn off all their energy in a controlled environment rather than taking out their anxiety on your new pair of slippers.
Your Puppies First Day of Daycare is Free!
At Lucky Dog Bark & Brew, our puppy daycare onboarding process involves a temperament test. This is offered as a free first day of daycare (Monday through Wednesday only) that will allow our staff to better understand the temperament of your puppy so we can best match them to their ideal group. Temperament testing is mandatory in order to participate in doggy daycare so we can ensure all puppies that are placed together are compatible and safe under our care.
Playtime & Socialization
Benefits of Puppy Daycare
Enrolling your furry friend in puppy daycare comes with a broad range of benefits, including:
Socialization
No longer will your puppy spend their days cooped up inside alone. Instead, they'll get the chance to interact with other dogs their size and temperament in a spacious indoor and outdoor play area.
EXERCISE
We prioritize exercise for your pet, allowing them plenty of supervised playtime to run out their zoomies, engage with toys, and navigate challenging obstacle courses to their heart's content.
PEACE OF MIND
Since your pup will be safely in the care of our knowledgeable dog handlers, you won't have to spend your workdays wondering what kind of trouble they're getting themselves into while you're away from home.
Why Choose Lucky Dog?
Our Puppy Daycare Services for Charlotte Pet Parents
Choosing the right puppy daycare facility for your pet is an important first step. You want to be sure that the facility you choose is knowledgeable, safe, clean, and — most importantly — fun!
Lucky Dog Bark & Brew is proud to be Charlotte's premier puppy daycare facility and brew pub. Pet parents know that when they choose our daycare facilities for their pets, they'll always enjoy: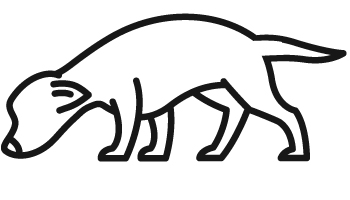 A SAFE AND CONTROLLED ENVIRONMENT
We place dogs together based on size, breed, and temperament so you never have to worry about your puppy being placed in unnecessary danger.
SUPERIOR AMENITIES AND STAFF
Our team is proud to maintain a clean, safe facility, hiring only the most well-trained staff members who love dogs and have a deep knowledge of dog handling techniques.
AMPLE SUPERVISED PLAYTIME
Your pal will never be bored at our facilities, receiving plenty of structured, supervised playtime throughout the day before you pick them up.
FLEXIBLE SCHEDULING
With drop-off times as early as 6:30 a.m. and pick-up times as late as 9 p.m., our flexible scheduling is suitable for even the busiest pet parents.
PLENTY OF SOCIALIZATION
Our pups get the chance to interact with both other dogs and human handlers, allowing them plenty of socialization opportunities throughout the day.
The Puppy Daycare & Bath Pass
Introducing the Puppy Pass! This pass is for puppies under eight months of age*
and this pass is perfect to get your puppy used to socializing right away!
$359
The Puppy Pass includes:
Unlimited Day Care
Four Full Baths
The Puppy Pass Expires after 30 days from the date of purchase
*if over six months, the puppy must be fixed and up to date on shots!