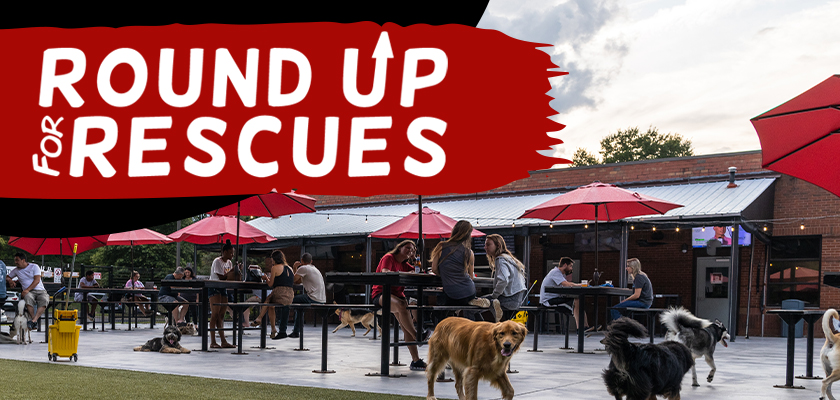 30 Oct

Round Up for Rescues

Ah, Fall — the season of crunchy leaves, pumpkin pale ales, and dog sweaters. It's also the season of giving and paying it forward!

At Lucky Dog, we're more than just a fun place to go to enjoy a beer and play with your furry friends. We're passionate about giving back to local dog charities, helping find lost pets, and pairing dogs with their fur-ever homes. That's why we're proud to announce our all-new Rescue Round Up program starting this November. Now, not only can customers come enjoy a craft brew or cocktail with their four-legged friends, but they can feel good knowing they did some good in the process. Visit any of our three Lucky Dog locations to take part in the Rescue Round Up program today.
How Does Rescue Round Up Work?
We're proud to announce the launch of our Rescue Round Up program so our customers can take part in how we pay it forward to others in the community. Participating is easy — simply follow the steps below:
Make a Purchase: Select from our broad range of cocktails or craft beers and get to know your fellow bar-mates as your furry friends play together in the park.
Close Your Tab: When you're ready to call it a day and head home, let your bartender know so you can close out your tab.
Round It Up: Your bartender will ask if you'd like to round your tab up to the next dollar amount or donate a whole dollar so you can donate to the dog rescue we've selected for that month. Say yes to make a positive impact on the local community!
At the end of every month, Lucky Dog will donate all the money our customers contributed, plus we'll match every rounded up dollar earned through the program. That way, your donation goes twice as far in helping provide for the local dog rescues we've chosen as that month's recipient. Each month, we'll select a different rescue where your donation dollars will go. Keep checking in to find out who will be the next set of lucky dogs to have something to wag their tails about.
November Rescue: Carolina Big Hearts Big Barks
To kick off the Rescue Round Up program, we've selected Carolina Big Hearts Big Barks as our first dog rescue. Carolina Big Hearts Big Barks is a 501c3 nonprofit dog rescue located in Charlotte, North Carolina. Founded in July 2015, the rescue is 100% volunteer-based and is dedicated to saving large-breed dogs in the Charlotte region. Why the focus on large breeds, you ask? The following shocking statistics might help you understand why this segment of furry friends needs a little extra love:
According to a 2013 report on the effects of characteristics on the length of stay of dogs at no-kill animal shelters, small dogs are adopted much faster than their larger counterparts.
The most common purebred dogs in shelters are almost exclusively large breeds, including pit bulls, Labrador retrievers, and German Shepherds.
Bully breeds are adopted less frequently and put down more often than any other breed.
47% of dogs are rehomed due to problems including growth beyond owner expectations, problematic habits, aggressive behaviors, and health problems.
Carolina Big Hearts Big Barks is helping to destigmatize large breed dogs by finding their forever homes through their network of dedicated foster volunteers. Help us give back to this fantastic organization by stopping by for a brew with your bud today.
Who Will be Next Month's Lucky Dog Round Up recipient?
We hope you'll join us for the inaugural Rescue Round Up initiative throughout the month of November. Who will be the next lucky dogs we help? There's only one way to find out: Make a trip out to Lucky Dog each month to discover which dog rescue we're paying it forward to in the community. Have a suggestion for where your donation dollars should go? Let our staff know during your next visit!